contact us
If you have questions, please contact us, all questions will be answered
Email :

[email protected]

Email :

[email protected]

Add : No. 39, Xinchang Road, Xinyang, Haicang Dist., Xiamen, Fujian, China (Mainland)
products
2 inch RF Plasma Magnetron Sputtering Coater Machine for Non-Conductive Thin Films
Model Number:

VTC-2RF

Compliance:

CE Certified

Warranty:

One Year limited warranty with lifetime support

MOQ:

1

Payment:

L/C D/A D/P T/T Western Union
2 inch RF Plasma Magnetron Sputtering Coater for Non-Conductive Thin Films
VTC-2RF is a compact 2" single head RF Plasma magnetron sputtering system coating non-metallic, mainly oxide thin film. It integrates all components into one-floor stand cabinet, including RF power source, quartz vacuum chamber, vacuum pump, recirculation water chiller and film thickness monitor etc. It is an excellent and cost-effective coater for coating thin film of non-conductive material in R&D.
SPECIFICATIONS
Input Power



220 VAC, 50/60Hz, single phase

800 W (including pump)

If the voltage is 110 VAC, a 1000 W transformer is required, please click the left picture to order

One

13.5 MHz, 300 W RF Generator with automatic matching

function is built in cabinet and connected to 2" sputtering head.

Optional: DC sputtering power source is available for coating metallic material

Magnetron Sputtering Head





One 2" Magnetron Sputtering Heads with water cooling jackets are included and inserted into quartz chamber via a quick clamp

One shutter is built on the flange (manually operated)

One 16 L/min digitally controlled recirculation water chiller is required for cooling magnetron sputtering heads

1" sputtering head is replaceable and optional at extra cost

148 cm RF cable is replaceable with extra cost

Sputtering Target

Target size requirement: 2" diameter x 1/4"thickness Max

One SiO2 target is included for demo test.

Al2O3 ceramic target

Recommend Coating Method

Optional 2" sputtering targets (with backing plate) are available upon request at extra cost.

Vacuum Chamber



Vacuum Chamber: 160 mm OD x 150 mm ID x 250 mm Height. made of high purity quartz

Sealing Flange: 165 mm Dia. made of Aluminum with high-temperature silicone O-ring

Stainless steel mesh cover is included for 100% shielding RF radiation from the chamber

Vacuum level: 1.0E-2 Torr with included dual stage mechanical pump and 1.0E-5 Torr with optional turbopump

Sample Holder

The sample holder is rotatable and heat-able made of a ceramic heater with stainless steel cover

The sample holder size: 50 mm Dia. for 2" wafer max

Rotation speed is adjustable: 1 - 10 rpm for uniform coating

The holder temperature is adjustable from RT to 500°C Max with accuracy +/- 1.0 °C via digital temperature controller.

800- 1000ºC heating sample holder is available upon request upon request.

Optional vibration sample hold is available for power PVD coating. ( Pic 3 below )

Vacuum Pump Station




KF25 Vacuum port is built in for connecting to a vacuum pump.

A vacuum pump with KF25 adaptor is required, but not included.. Please click picture to order separately.

Vacuum level: 1.0E-2 Torr with dual stage mechanical pump and 1.0E-5 Torr with the turbopump

Optional

Overall Dimensions

Net Weight

Warranty & Compliance



One year limited warranty with lifetime support

CE certified

NRTL or CSA certification is available upon request at the extra cost

Application Notes

This compact 2" RF magnetron sputtering coater is designed for coating oxide thin films on oxide single crystal substrates, which usually does not need high vacuum set-up

Please use > 5N purity Ar gas for plasma sputtering

For the best film-substrate adhesion strength, please clean the substrate surface before coating:

Ultrasonic cleaning with the following sequential baths - (1) acetone, (2) isopropyl alcohol - to remove oil and grease. Blow dry the substrate with N2, then hot bake in vacuum to remove absorbed moisture

Plasma cleaning may be needed for surface roughening, surface chemical bonds activation, or additional contamination removal

A thin buffer layer (~5 nm), such as Cr, Ti, Mo, Ta, could be applied to improve adhesion of metals and alloys

For the best performance, the non-conductive targets must be installed with a copper backing plate. Please refer to the instruction video below (#3) for target bonding

TMAX uses the Coaters have successfully coated ZnO on Al

2

O

3

substrate at 500 °C (XRD profile in Pic #5)

DO NOT use tap water in water chiller. Use DI water, distilled water, or anti-corrosive additives as colant.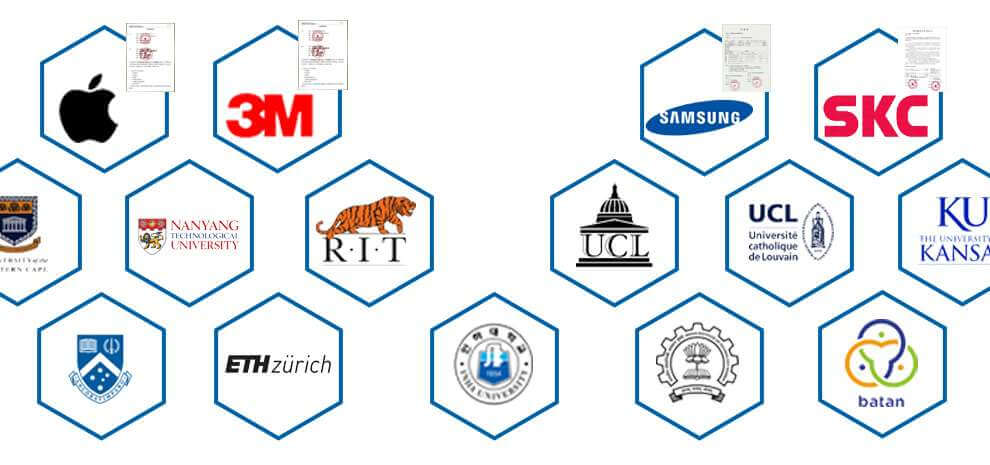 1. We supply machines with battery technology support.
2. We supply full set of lithium battery equipment for lab research, pilot scale research and production line.
1 Standard exported package: Internal anticollision protection, external export wooden box packaging.
2 Shipping by express, by air, by sea according to customers' requirements to find the most suitable way.
3 Responsible for the damage during the shipping process, will change the damage part for you for free.