contact us
If you have questions, please contact us, all questions will be answered
Email :

[email protected]

Email :

[email protected]

Add : No. 39, Xinchang Road, Xinyang, Haicang Dist., Xiamen, Fujian, China (Mainland)
products
Aluminum laminated film pouch cell case/cup Punching forming machine with Optional Die
Model Number:

TMAX-RY200

Compliance:

CE Certified

Warranty:

One Year limited warranty with lifetime support

Delivery Time:

7 days
contact now
Aluminum laminated film pouch cell case/cup forming machine with Optional Die
Here is the video link for your reference:
https://www.youtube.com/watch?v=AlmV7mPeUJU&feature=youtu.be
TMAX-SCK200 is a CE Certified pouch cell forming machine used in the production line of making pouch cell batteries with optional size range. It is used to prepare polymer cases made of Aluminum Laminated Films. To ensure continuity and compatibility for customer's research, adjustable depth (spacers is included in standard package) to directly match the electrodes cut by electrode cutting machine.
1 TMAX-SCK200 Battery Pouch Forming Machine is used for lithium polymer battery/ pouch cell cup forming in the of making pouch cell batteries.

2 The machine is used to prepare polymer cases made of Aluminum Laminated Films.

3 This lab aluminum laminated film pouch forming machine is designed with simple Spring mold with a customized size, which is more suitable for lab research.

If you need a bench top mini forming machine, please choose the TMAX-SCK100 model.
Model

Lab Polymer Battery Pouch Forming Machine

TMAX-SCK200

Source voltage

AC 220V/110V, 50/60HZ

Power

100W

Warranty

Two years limited warranty with lifetime support

Advantages

1 Structure of guide pin, slide up and down smoothly with

high precision

2 Change mould, adjust tensile depth simply, quickly

3 Use screen and casing protection, guarantee safety

4 High strength of chrome steel and aluminum alloy,

surface roasts the paint processing through environmental

protection electroplating

Suitable aluminum

film thickness

0.1-0.2mm

Suitable mold size

Customized as customer's request, with punching depth ≤24mm

Max. Cup Depth

Single pit punching depth ≤24mm

Output

200-400EA/H

Output pressure

5T

Air source

0.5-0.7MPa

Mold materials

SS136 Die steel

Dimension

(L*W*H)

460*320*925mm

Weight

About 130kg

Recommendation

For the pouch cell assembly, we also recommend you the following items:

Forming machine Hot sealer with tab Vacuuming sealer

Ultrasonic tab welder Die Cutter Aluminum Laminated Film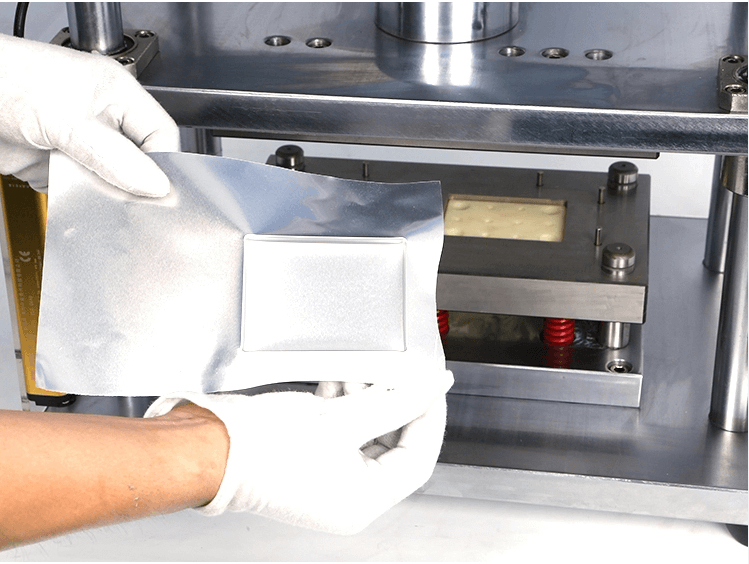 PACKAGE:
1 Standard exported package: Internal anticollision protection, external export wooden box packaging.
2 Shipping by express, by air, by sea according to customers' requirements to find the most suitable way.
3 Responsible for the damage during the shipping process, will change the damage part for you for free.
DELIVERY TIME:15-20 days after confirming order,detail delivery date should be decided according to production season and order quantity.