contact us
If you have questions, please contact us, all questions will be answered
Email :

[email protected]

Email :

[email protected]

Add : No. 39, Xinchang Road, Xinyang, Haicang Dist., Xiamen, Fujian, China (Mainland)
products
Vacuum Planetary Centrifugal Mill & Mixer
Model Number:

MSK-MIXER1

Compliance:

CE Certified

Warranty:

One year limited with lifetime support

MOQ:

1

Payment:

L/C D/A D/P T/T Western Union

Delivery Time:

7 day
Vacuum Planetary Centrifugal Mill & Mixer
a high speed mixer designed for ball milling and mixing various powder materials with two contisners upto 1000 ml/each, The the contiainer can be revolutated around the main disk and rotated by self-rotating upto 2000 RPM. The container's revuloting and rotating speed is controlled independenly., which allows the user to adjust impact force and shearing force during milling or mixing based on different materials. MSK-PCV-2KLD has built in vacuum pump and can be operated under vacuum condition to remove gas micron-bubbles inside slurry.
SPECIFICATIONS
o Mixing under vacuum for deaeration up to 1 Torr

o Two containers for lmixing or milling sample upto 500 ml./ea ( including contiamer's weight )

o Minimized contamination (no metal mixing blade)

o Thes peeds of main disk revolution and of container self-rotating are controlled independently upto 2000 RPM to provide various impact and shaering force.

· Sample Materials

o Nanopowders, ceramic powders

o Grease

o Slurry

o Paste

Voltage Input

· Single Phase AC 208 - 240V, 50/60 Hz, three phase

Power

· Maximum: 4000 W

· Planetary Centrifugal Vacuum Mixing

o Main Platen Rotation (revolution motion):0 - 1500 RPM (adjustable)

o Container Spin (rotation motion): Adjustabel betwenn Mian platen Speed and 1500 RPM ( Speed can not lower than mian platen speed )

Vacuum Capability

· The chamber is vacuum sealed with built in mechanical pump.

· Pumping Rate: 165 L/min

· Ultimate Vacuum: -95 kPa

·

Containers and Counter-Weights

· Two standard containers and counter-weights are included

o Two 1000 mL containers with gas vent, made of high-density Polyethylene

o For small amount of sample mixing, the daptor for samll container is available at extra cost.

o For ball milling , stainless steel liner and adportor is availale upon reuest at extra cost.

Program

· Store up to 6 programs in memory, as shown in Fig.1

· 3 programmable segments, as shown in Fig.2. For example:

· Maximum running time for each segment is 200 sec. Maximum total running time is 600 sec

· The rotation direction could be either clockwise (mode A) or counter-clockwise (mode B

Safety and Protection

· Safety warning and interlocks are integrated. The unit automatically stops when

o The unit is overloaded with the sample

o The sample is loaded in an unbalanced way

o The top cover is opened

Warranty

· One year limited standard warranty with lifetime technical support

Dimension

· 655 mm (W) x 950 mm (H) x 805 mm (D)

Weight

· 395 kg

Application Notes

· Always use the mixer on level & stable surface for best performance and maximum safety

· Do not use the mixer in a hazardous atmosphere, or with flammable, explosive, corrosive, poisonous material! Check the chemical resistance of the container with the different material before loading the sample!!!

· Do not overload the mixer! Stop the mixing operation immediately if abnormal sound/vibration are observed

· Use a digital balance to make sure the sample loading is balanced before mixing

· Double check if the containers are mounted correctly and securely before mixing

· Do not open the cover lid until the rotation has completely stopped! Do not retrieve the containers and/or put hand close to mixing fixture while the rotation has not completely stopped!

· Only use the included containers for the mixing operation! Double check to make sure there is no foreign object in the mixer before mixing
Detailed Images
Our Certifications
Cooperative Brand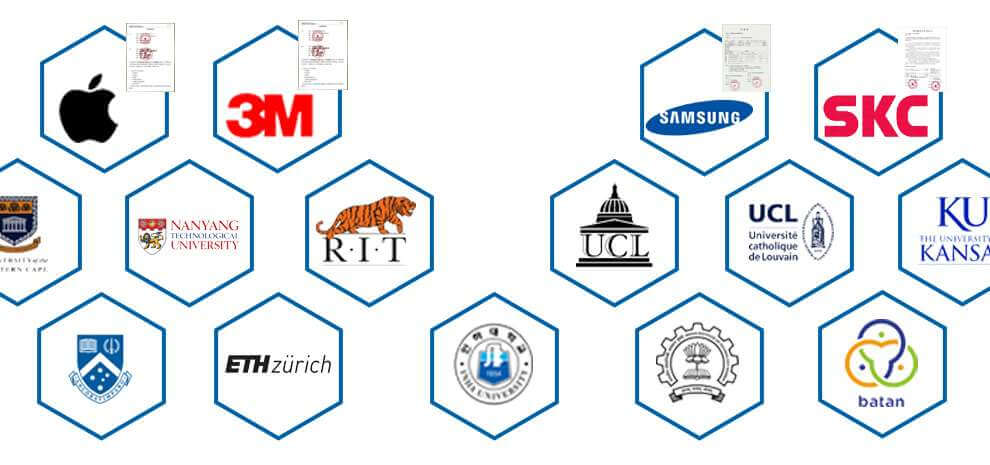 Hot Sale Products
1. We supply machines with battery technology support.
2. We supply full set of lithium battery equipment for lab research, pilot scale research and production line.
Packing & Delivery
1 Standard exported package: Internal anticollision protection, external export wooden box packaging.
2 Shipping by express, by air, by sea according to customers' requirements to find the most suitable way.
3 Responsible for the damage during the shipping process, will change the damage part for you for free.